Our import from Sweden:
Snuffs-White "Karhu" (FCI/VDH)
Born: 06.05.2002 in Mariefred/Sweden
Parents: White Samba x Such Quijote von der Hohensyburg
Height: 65,5 cm, short coat (long coat carrier)
Pedigree: Link to Pedigree Snuffs-White
'Job': therapy dog
Hips: HD: B1; ED: 0
Audiometrie: hearing on both ears
X-ray cauda equina (2008): o.k.
Temperament tests (for breeding permission): 1. Uettingen 2004: Formwert: SG, Temperament excellent (98/100 points) 2. Töttelstedt 2006: Formwert: SG, Temperament excellent (97/100 points)
Stud dog: Permission FCI / VDH (BVWS) for lifetime
AVK (Ahnenverlustkoeffizient): 100% (4 Generationen/30 Ahnen); 95,3 % (5 Generationen/62 Ahnen)
IK (Inzuchtkoeffizient): 0,00048
Karhu ...
.... is extremely powerful with a passion for playing, obliging and open, eager to lern with a will to please, cuddly, easy to motivate for everything.
.... is regularly working as therapy dog in an home for aged people since he was 13 months old.
.... got the days best result in the temperament test of the BVWS in Uettingen (January 2004) with 98 points and temperament note 'excellent'. It is nessecary to repeat this test after 2 years. Again, he got the days' best result with 97/100 points, note "excellent".
.... 'ein anatomisch sehr gut aufgebauter, knochenstarker Rüde' (Bericht J. Pohling, Lingen)
.... an indefatigable playing partner for our children, jumping through hoops, over obstacles for horses and the 'attraction' in all circus games. At the bike and even when swimming he loves to pull them.
To cut it short: he is absolutely versatile. Just look at the photos.
Karhu ...
... is the finnish expression for "bear". Karhu was born on May 6th 2002 in Mariefred / Sweden. He came to us at the age of 8 weeks and within his first year he developpd to a very open and friendly male. Because of his good temperament he passed the test as visit- and therapydog at an age of 11 months already. After having passed this tests he visits the home for aged people in Osterholz-Scharmbeck and the SOS Kinderdorf regularly.

Karhus pedigree is from the Swedish Kennel Club SKK (Svensk Kennelklubb). He was one of the first White Shepherds allowed to start at VDH-shows. He started in Oldenburg and on the World Dog Show in Dortmund. Then we stopped his "show carrer" - due to his mothers and grandfathers line he has a good deal slight yellow coat colour. We knew this fact before we bought him but to us, the temperament and the blood lines were more important than beautiful looks.

His mothers' bloodline is unique in Germany at the moment. As the White Shepherds were nationally recognized in Sweden in the year 2000, his mothers pedigree shows SKK-registered white shepherds for three generations. Karhus father Quijote is a German bred dog, who lived in our family for 6 months until he was 'ready' for an export to Sweden. We know him and his temperament very well and are proud to have a son of this dog in our family. Karhus father Quijote is Swedish Show Champion and was Best in Show several times. Karhus grandfather (Quijotes father) has a complete English bloodline, so that even the German line is quite interesting.

Karhu is x-rayed in January 2004 and the (VDH) result is B1.

In January 2005 he passed the temperament test in BVWS e.V. with 98 from 100 possible points (days best result).

This temperament test must be repeated after 2 years. Karhu took part at the test in Töttelstedt (Erfurt) in July 2007 and passed once again with the days best result, 97 from 100 possible points.

His first stud activity in 2008 was not successful, there were no puppies after a successful mating. In autumn 2008 we tested his sperma which is absolutely okay. So we still hope that Karhus special bloodline from Sweden will stay alive.
Karhus Parents:
Mum White Samba (Chicka), a Swedish lady and his father, the Swedish Show Champion Quijote von der Hohensyburg
Karhu in Worpswede, April 2007: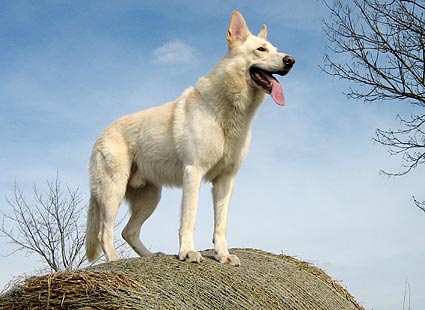 Karhu in Denmark, October 2005: