Snuffs-White ("Karhu")
Visit - and Therapydog
Snuffs-White "Karhu"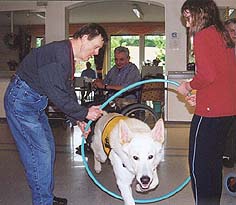 Soon we realized that Karhu had a special temperament. He is very friendlich and curious. During the first 18 months he came along with every dog without any problems. He never caused any fight. This changed later on but his "fights" are always reduced to other male dogs. Karhu stayed always friendly towards people, even drunk or strange dressed people are friends to him.
Peter and I agreed that we should train and use this extraordinary temperament. But a training as rescue dog was too time consuming and not possible with 2 children and a further dog.
Then I heard about the club "Tiere helfen Menschen" (animals help people) and their local group. I found their telephone number but I did not find the time to call them. Some weeks later, a dog magazine published a report about exact this club and I remembered the telephone number. I called the president of the local group who has a trained rescue dog. We talked about 2 hours and she compared the rescue work with the work in the club. She even described what kind of work the dogs are doing in the club.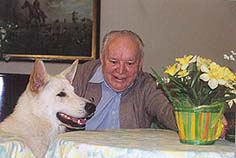 Dependent on their temperament, size and character the dogs are chosen for the institutes. When a dog has problems with handicapped people, he cannot work in this area. But exactly this dog can be perfect for the work with children. The dog must be kind and friendly and there must be no (!!) aggressions, what ever happens! When the dogs are young, they grow with the tasks they get. A young and active dog is often not able to work i.e. with autistic children, he needs a special training for this kind of work. As soon as a dog has no longer fun with his work in an institute, the work is stopped. The owner is responsible to judge whether the work is okay (and fun) for the dog or not.

The dogs are used in homes for handicpped, for aged people, in the kindergarten, in schools and also in prisons. They go to people who ask for a visit and where they can halp psychally and physically. The work is not paid at all (except of the slices Karhu always gets at his work)

Of course, I asked: 'what has the dog to do' and I got the answer: 'he has to follow and you must be a team with your dog. He must show self-confidence in certain situations. And he must be absolutely friendly: it is NOT allowed to growl or even to bite when somebody touches him from behind. This happens often when a dog works with children or handicapped people. Dogs working with handicapped people must even accept to be hurt. The rest is a development from the every-day-work, each owner trains special things that can be useful for the work. But these things are very different from team to team.

We agreed to meet for a temperament test the next sunday. The Club tested only the relationship between Karhu and me and the usual orders like sit etc.. Karhu was extremely nervous as our children were playing in his area. Nevertheless, he passed the test. Then he had to play with unknown people which is quite necessary for his work. Karhu has no problem with this job, when it comes to playing, he makes no differences between known and unknown people. Then they checked his reactions when being touched. This was the first part of the test. The second part was the "practical work" in a home for handicapped men.

Two weeks later Karhu came into a small hall with about 20 handicapped young men. He was integrated into a consisting team, so that they could check is behaviour in an extreme situation. Each dog is an attaction for the men and so Karhu was suddenly touched by some men, crying loud and making strange movements. Karhu first reaction was irritation, he looked at me, hesitating. I gave some food to the men and the sitation changed ... Karhu discovered the food and decided that these men are friends. I accepted touching, playing, cuddling. After 40 minutes I saw that he seemed to be tired and I went out with him. He jumped into the car and slept for 2 hours.

The test was passed and so he could - at an age of only 11 months - work with me as visitors team. The local group is a 90 minutes drive from our home and so I have to work more or less alone. The first visit was in an home for aged people in Osterholz-Scharmbeck (where I still work with Karhu)
Seniorenheim "Haus am Barkhof" in Osterholz-Scharmbeck
Our first visit
Karhu jumped with his front paws on the desk to say "hello". The lady asked us to wait for the manager of the home. Karhu went to the old people sitting in the entrance area. We accepted people being afraid of dogs. In my first meeting with the manager we found out that both of us had no idea about our future work. But we were interested to see the peoples reactions to a big dog visiting the place and we went with the manager to a walk though the home.

In the first room (of the employees) Karhu got his first slice of cheese. Karhu decided to stay there ... one slice means there must be even more. I told him that he has to work and not to eat.

The old people liked Karhu. A nice dog. A beautiful dog. A wonderful dog. Karhu seemed to understand the words. The "nice dog" put his paw on the knees, touched hands with his big black nose and enjoyed his time. I heard stories about dogs that once lived with the people, dogs that crossed the rainbow-bridge a long time ago. But we also got negative reactions, some people did not want 'this bad animal' in their area. However, the manager was satisfied with the first visit and asked us to come again.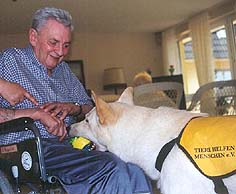 Twice a month we are in Osterholz-Scharmbeck. Meanwhile it is the third year and Karhu made real friends in the home. It would be nice to do more in this direction but I am running out of spare time. Working, the family, and the dogs - all of this needs a lot of time. It is a wonderful job to talk with the old people and to see their pleasure, the light in their eyes when they see and touch Karhu. They are often telling about their life and their dogs. For Karhu it is 'only' playing like he does every day. But for these people it means so much more.
I found out that the leader of our group was right. During the work I got some ideas about training helpful things. Karhu brings balls and plays with unknown people but he always throws the balls in front of their feet. A problem when somebody sits in a wheelchair. So we trained that Karhu puts the ball on the knees ... and meanwhile it works.
4 months later:
'Little' Karhu knows the building very well. As soon as we enter the street with the home for agred people, he starts squeeking. It is hard to stop him running to the front door. When he works with the group, the 'monster' changes into a well-educated, calm and handsome doggy.
The main playing object is still the ball but we are training other things, too. Karhu jumps through rings, he knows the "dead dog" signal. And he knows special rules when playing with the agred people. He puts the ball on the knees and he knows that it is not allowed to take it away again. At our home, he often ignores it ... at "work" never. I usually allow him to choose his partner himself. Even if he always chooses the same person I ask him to change to another man or woman.
There are days when Karhu plays with the seniors alone. He learnt a lot within a short period.
Juli 2004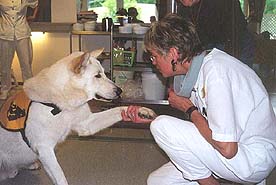 Karhu now regularly works in the home for agred people and for the first time, he will get some weeeks off during the summer holidays. Just before the holidays we tried something new and I am very thankful for the staffs' help. They try to convince each senior to come to our group and to play. Karhu got a lot self-confidence during the past year and I can absolutely rely on him. One day, the group was very small and a lady from the staff asked me and Karhu to bring the meals to the rooms. So the people who have to stay in bed could see the dog.

I hesitated. Karhu loves to enter each room to see what is behind the doors. But he HAD to wait outside - beside the bread with cheese and sausage, milk soup and so on. The lady from the staff went into the room and asked wheter Karhu is welcome. If yes, Karhu was allowed to enter. Slowly and calm... if possible. Karhu solved his job nearly perfect. We met some people with very sad stories, young people being helpless for the rest of their lifes. Sometimes I envy Karhu who does not think about these stories, who is kind and friendly to everybody. One man stared at the ceiling, he could not see Karhu. The lady asked whether Karhu can jump up on the bed with the front paws. No problem, a evernmorning-procedure at the bed of our daughter to say 'hello, wake up!'. We tried and it worked .. and the man realized Karhu and smiled. Moments, I will never forget.

The newspapers mentioned Karhus visit, too. A local newspaper wrote about him in 2004 and in 2005 we even got a one side coloured story in a nationwide magazine.

As I told in many articles before, the white shepherd needs a job. What you do with him is up to you. We decided to give him a job in the social area because we have a dog whose temperament fits for such a work. Of course, two monthly visits are not enough. Karhu needs his bike tours, his playing rounds, some agility and so on. He is a real "playaholic".

Copyright: Gaby von Döllen, Worpswede (Juni 2003)